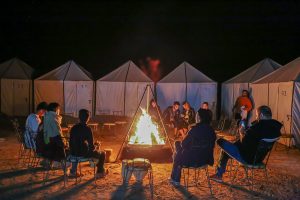 The best way to experience the adventure of the Sahara desert is sleeping in the dunes of Erg Chebbi. The caravan, led by an expert guide in the evening, carry you out of the hotel and you will travel between the dunes for one and half hours while the sun sets.
There comes a valley between the dunes, chosen because its isolation allows the absolute solitude of the group. At the bottom of the valley are the berber tents to be our accommodation and finish the trip, the guide will make a mint tea.The dinner is simple but tasty, an ideal example of local cuisine which we will eat around the fire. Then, at night, you can enjoy the overwhelming experience of silence and the starry night sky above you. it will be an unforgettable impression.
The next day we rise before the sunrise, take a mint tea and come back the same way to the hotel where we will have toilets and showers. After breakfast we can relax and enjoy the dunes. This excursion is suitable for all ages. It is recommended to bring appropriate clothing for the season and time of day because in the desert it is cold at night. Also bring plenty of water and drink it regularly. It is the most comprehensive tour of all: you can enjoy a camel ride, watch the sunset and the dawn, the Milky Way in its splendor and the desert in all its purity.