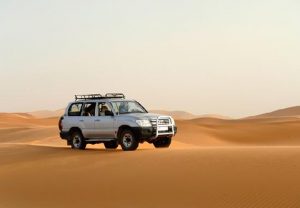 This trip starts from Merzouga, and we will drive to explore villages around Erg Chebbi dunes such as Hassi Labied, Merdani, Khamlia , M'fis .
On our way to Khamlia we expect to meet locals showing their desert foxes and you may also encounter desert reptiles and mammals. In Khamlia, known as the village of black people who were slaves coming from Sudan, you will be hospitably welcomed with a cup of tea (called Whiskey Berber) while enjoying their spiritual Gnawa music. Leaving Khamlia our next stop is on the panoramic view of golden dunes near the Algerian border.
We may stop for a picnic lunch under the shadow of a tree before continuing to visit a Nomad family living under a Berber tent. You will be introduced to family members and getting to know about their way of life while enjoying the taste of a nice cup of tea. Then we will have the chance to visit the sites of black volcanic rocks and after that, we 'll reach the panorama near Yasmina lake where you will be amazed by the scene of the dunes in addition to the nearby lake (springtime).